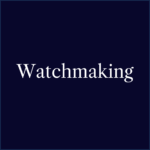 Ceramic is a hard material that is hypoallergenic, non-scratchable and warm to the touch, making it possible to create durable, high-quality pieces that are both technically and aesthetically pleasing. In fact, the term "luxury ceramics" is often used.
Ceramic is a very hard material with a very warm feel. Totally hypoallergenic and non-scratchable, this highly technical material is a sure bet for your creations over time.
In partnership with leading watch brands and subcontractors, HARDEX can help you to produce components for :
Glasses and backs
Crowns and pushers
Bezels
Dials
Links
A wide range of finishes are possible, including polishing, satin-finishing, laser engraving and bead-blasting to develop a product with a strong identity.